25 Great Things To Add To Your Travel Bucket List`
It's often said that travelling leaves you speechless, before turning you into a storyteller. I predict that if you manage to tick off all 25 things on this bucket list you're going to have some pretty cool stories to talk about when you're older. In no particular order, here are Smaller Earth's 25 amazing things to do before you die. This is the Bucket List to beat all others.
1. Dive The Great Barrier Reef
In North Eastern Australia you will find The Great Barrier Reef, visible from Outer Space this ocean masterpiece is the largest living thing on the planet. The Reef is a whopping 2,300km-long ecosystem. It comprises of thousands of reefs and islands, made up of hundreds of different coral types. This colorful ecosystem is home to thousands of different types of fish, sharks, shells, starfish, turtles and dolphins. Grab a snorkel and a Go Pro and you'll capture some of the best footage this planet has to offer. This is a must for every travel bucket list.
2. Roadtrip down Route 1 in California
Starting from one end to another this beautiful coast-hugging road will take you from San Francisco Bay down to San Diego. You will never see a blue as vivid as the Pacific Coast. As you wind down from San Francisco you will pass through Big Sur, Santa Barbara, Malibu, Los Angeles and Orange County before ending up in San Diego. You can camp at sites along the way, chill at the golden beaches, ride the ocean swell, and eat at the vibrant towns along the way. Hire a convertible, throw on some Beach Boys and make sure to take a camera.
3. Capture the Northern Lights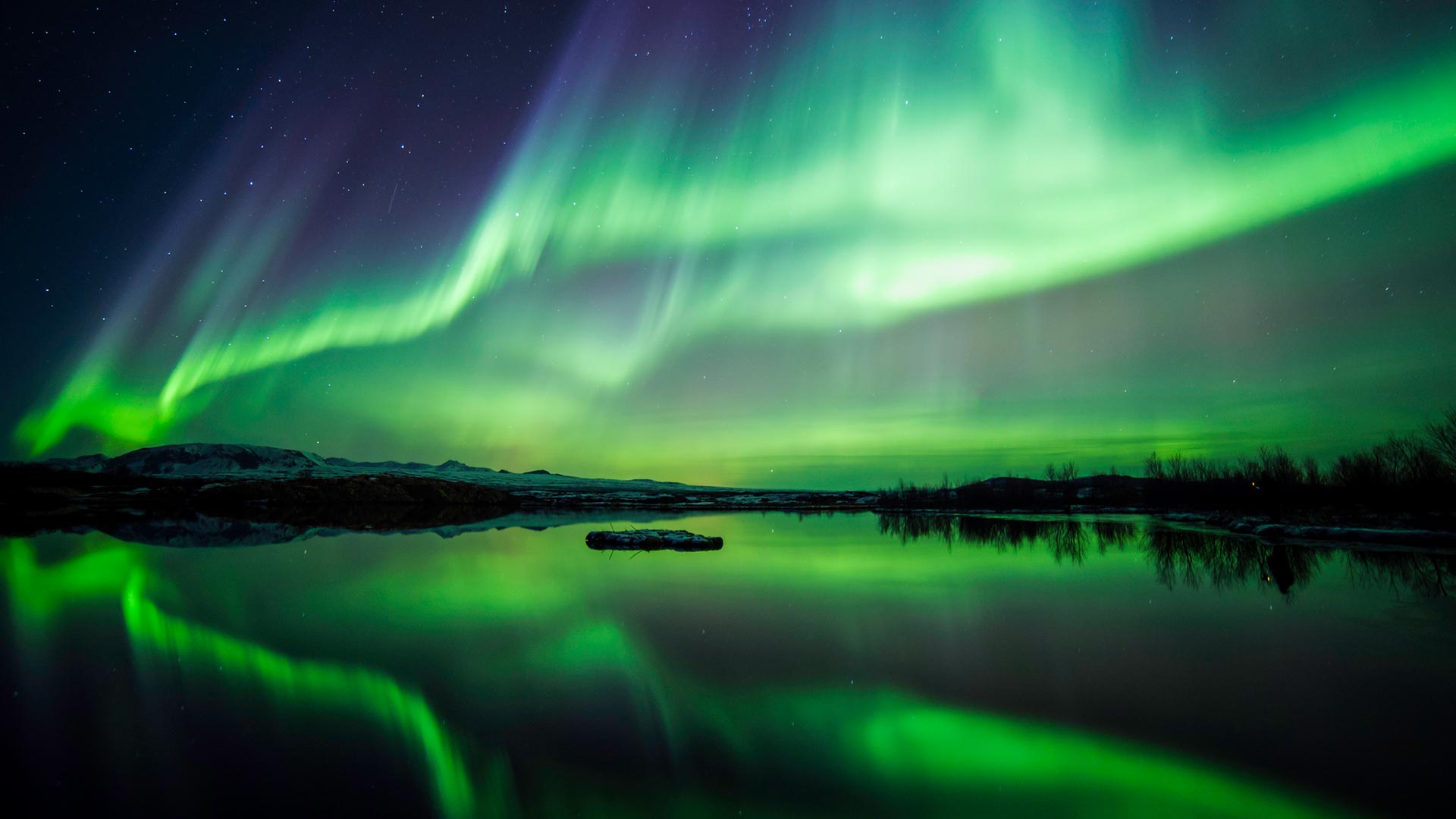 The Northern Lights can be seen from many locations, but the further north you go the better the lights will be. More formally known as the aurora borealis these mysterious rays of light create an almost lava lamp like spectacle in the sky. It is the result of fast moving highly charged electrical particles created by the sun. It's fair to say the Northern Lights will dazzle you so make sure it's on your bucket list.
Check out our latest Smaller Earth programme: Summer Camp Canada
4. Inter-rail around Europe
An inter-rail pass can ultimately tick off a handful of European countries in one trip. It gives you the opportunity to delve deep into different European cultures, visit historic cities and towns, discover some of the world's best landscapes, gateways and trails. Whether it's two weeks, one month or longer, it's the ultimate summer trip for the first time gap year backpacker.
5. Discover Petra, Jordan
Petra or "The Rose City" is an archaeological site found in the desert of Jordan. The entrance to Al Khazneh carved into the red mountain rock is 45m high and dates back to around 300BC, it's also an UNESCO World Heritage Site and one of the seven new wonders of the world. Petra was once a thriving trading city until it was abandoned and left in ruins for centuries. You might recognize it from the Indiana Jones film 'The Last Crusade'.
6. Visit The Taj Mahal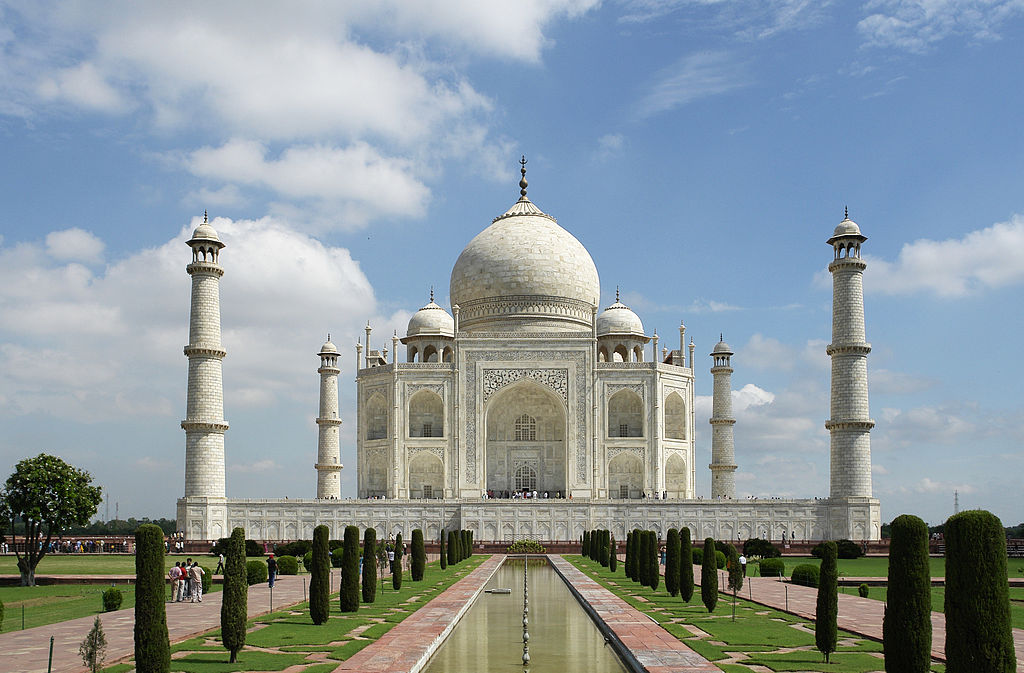 No Bucket List is complete without a trip to the Taj Mahal. The Taj Mahal was commissioned in the 17th century by Shah Jahan, a Mughal emperor. It's located in Agra, India. The mausoleum took over 20 years to build, a world heritage site that is one of the most famed pieces of architecture in the world. A symbol of India built around Indian, Persian and Islamic influences. Around 3 million people visit this spectacular landmark everyday.
7. Explore Angkor Thom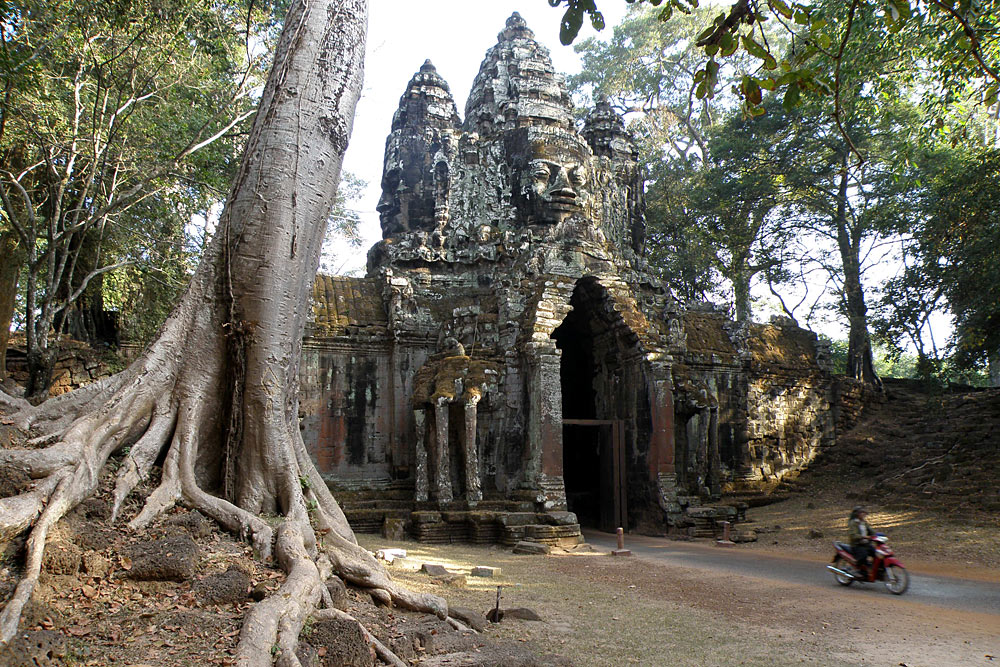 Angkor Thom, located in Cambodia Asia, was the last city of the 12th century Khmer Empire. A city that represents one of humankind's most astonishing and enduring feats of architectural achievement. Most of the city has disappeared but these beautiful remains are one for the bucket list.
8. Visit Lake Louise, Banff
Lake Louise is located in Banff National Park in Canada. The Park itself holds some of the best ski resorts, hiking trails and lakes in the world, but none of them are quite as famous as Lake Louise. Often described as 'The Diamond in the Wilderness'. It's surrounded by glaciers and waterfalls. If this is on your bucket list then bring an extra battery for your camera.
9. Catch A Sunset At The Grand Canyon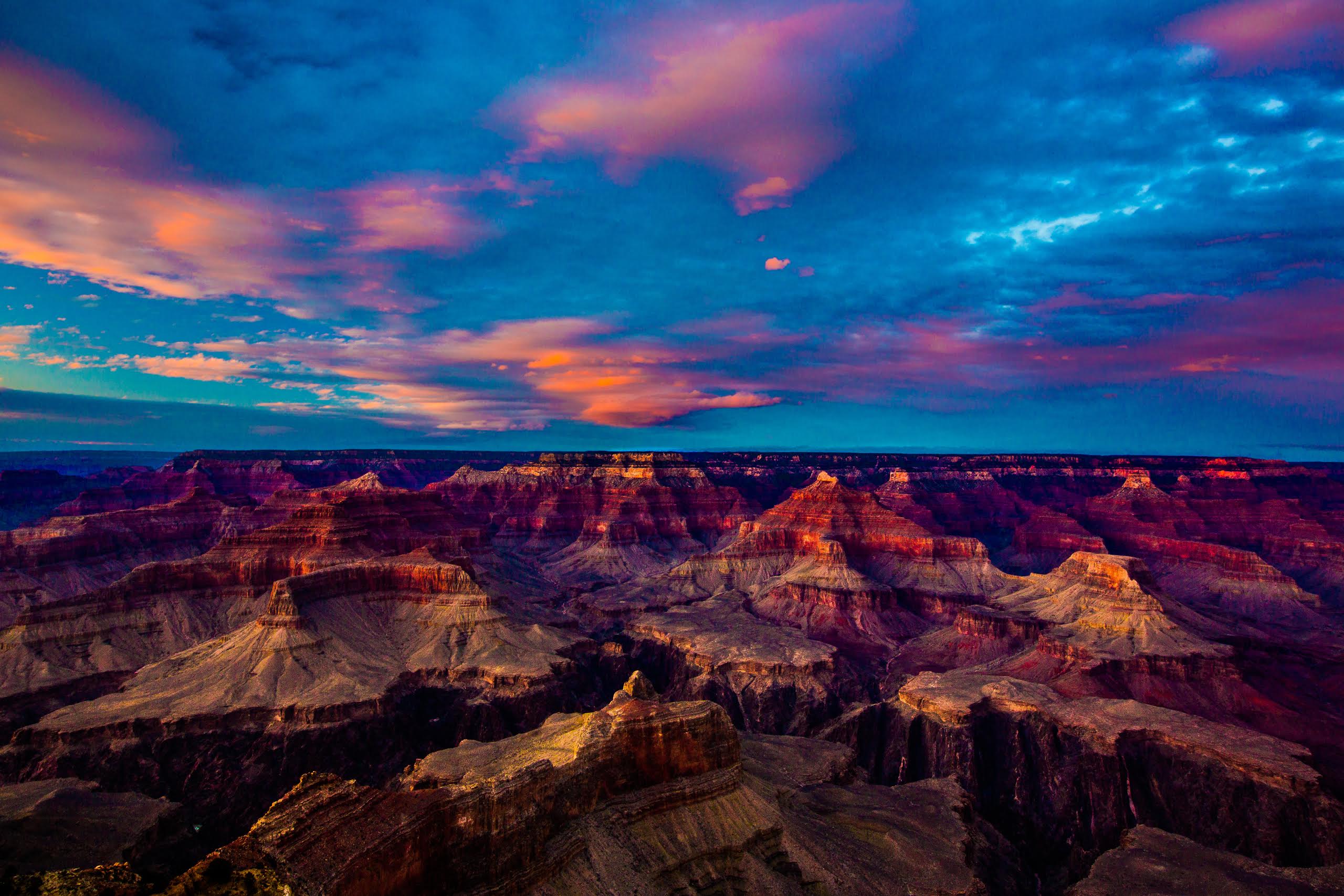 No travel list is complete without having The Grand Canyon on it. This rugged, beautiful natural formation of red rock stretches as far as the eye can see in almost every direction. The Grand Canyon National Park is more than just a pretty sunset though, you can go hiking, camping, spot rare wildlife and even go white water rafting at the Colorado River. #BucketListGoals
10. Stand Before The Great Pyramid Of Giza
Ancient Egypt is one of the most fascinating and studied cultures of all time. A civilization that left us a legacy with The Great Pyramid of Giza. It is the oldest and most intact of the 7 Ancient Wonders of the World and a symbol of the great Egyptian architecture. The pyramid took over 20 years to build and to stand in its presence is awe-inspiring.
11. Hike the Great Ince Trail to Machu Picchu
For many travelers to Peru, a visit to the lost Incan city of Machu Picchu is the whole purpose of their trip. With its awe-inspiring location, it is the best-known and most spectacular archaeological site on the continent. Apart from a few indigenous Quenchuas, nobody knew of Machu Picchu's existence until American Historian Hiram Bingham stumbled upon it in 1911.
12. Fall in Love with Paris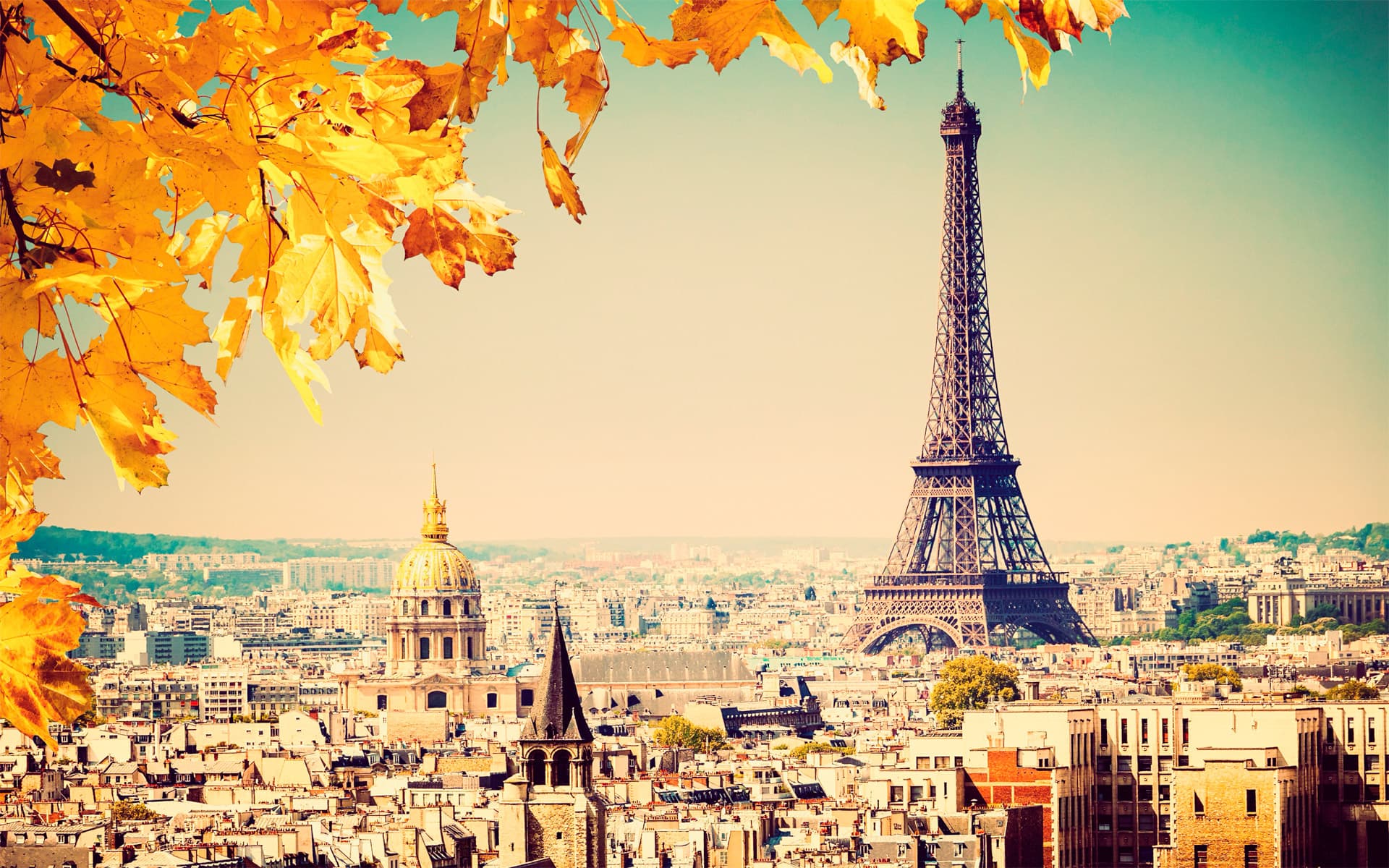 "We'll always have Paris" France's capital is one of the most historic and beautiful European cities. The language, the food, the art, the culture, everything about Paris will leave you wanting more. From its quirky cafe's to its scenic landmarks Paris will find a place in your heart.
13. Visit The Isle of Skye
A trip to the Isle of Skye will give you landscapes and views to rival anywhere in the world. From its pure sandy shores to the picture perfect waterfalls it's an island full of hidden treasures. You'll struggle to find a bucket list that doesn't include a Scottish destination.
14. Get Lost in Venice
Stunning architecture. Mysterious passageways. And of course, the canals. Venice is one of the most alluring cities in the world- the type of place where, as a visitor, you'll welcoming getting lost.
15. Go on an African Safari
An African safari is surely high on the dream list of any wildlife enthusiast, intrepid traveller or adventure seeker. Safaris in Africa are unforgettable – and no two will ever be the same.
16. Walk the Great Wall of China
The Great Wall of China is one of the true wonders of the world. It winds up and down across deserts, grasslands, mountains, and rivers for around 13,170 miles. (so maybe don't walk all of it!) It's over 2000 years old and a famed tourist spot for its architectural grandeur and historical significance.
17. Visit the the national Khao Sok park, Thailand
Many believe this lowland jungle (Thailand's rainiest spot) is over 160 million years old, one of the world's oldest rainforests. Dramatic limestone formations and waterfalls cascade through juicy thickets drenched with rain and morning dew. Whether it's riding in the back of an open Tuk-Tuk, or racing across the waves in a longtail boat, a journey through Thailands islands always feels like a real adventure. Thailands beauty has no ends.
You can visit this on our Best of Thailand Tour
18. Walk through Ashikaga Flower Park, Japan
Space travel to James Cameron's Pandora in "Avatar" would be pretty much ideal, but until that becomes possible, the Ashikaga Flower Park is the next best thing on the list.
19. Visit Rome
They say all roads lead to Rome and it's easy to see why a city steeped in history and culture that paved its way through our history books. From the famous ancient Colosseum to the nearby Vatican City you are surrounded by beauty in Rome.
20. Visit Santorini
Santorini may well have conquered a corner of your imagination before you've even set eyes on it. The main island of Thira will take your breath away with its snowdrift of white Cycladic houses lining the cliff tops. When the sun sets, the reflection on the buildings and the glow of the orange and red in the cliffs can be truly spectacular.
21. Sail around Halong Bay, Vietnam
Being recognized as Natural Wonder of the World by UNESCO, Halong Bay is one of the most beautiful destinations in Vietnam for travelers who love discovering nature. One of the best way to explore this wonder of the world is a cruise trip through rock islands, caves and spectacular beaches.
22. Hike to the Wulingyuan Scenic Area
With its towering sandstone pillars, dizzying stone bridges and mysterious caves, the Wulingyuan Scene Area is one of China's most aesthetic natural sites. Travel Bucket list ideas don't get cooler than this!
23. Explore Bagan: Myanmar
Bagan (or Pagan) is an ancient city that was the capital of the first Burmese Empire. Bagan serves as home to temples and buildings built from the 11th century to the 13th century. There are more than 2000 pagodas and temples to be found that were built by ancient kings.
24. Stand on Preachers Rock, Norway
"The Pulpit Rock" is a square formation of rock resembling a pulpit, standing 604 meters above the Lysefjord. The hike takes about two hours and when you face the view on the top, you will immediately see why this remarkable rocky plateau receives well over 200.000 visitors every year.
25. Iguazu Falls, Argentina
The exquisite Iguaza Falls are also known as the Iguassu Falls or Iguacu Falls. The magnificent spectacle of these 275 individual drops has awed tourist, locals and indigenous inhabitants for centuries.